R for Excel Users
2021-01-08
Chapter 1

Welcome

Hello! This is a course taught by Dr. Julie Stewart Lowndes and Dr. Allison Horst at the RStudio Conference: January 27-28 in San Francisco, California.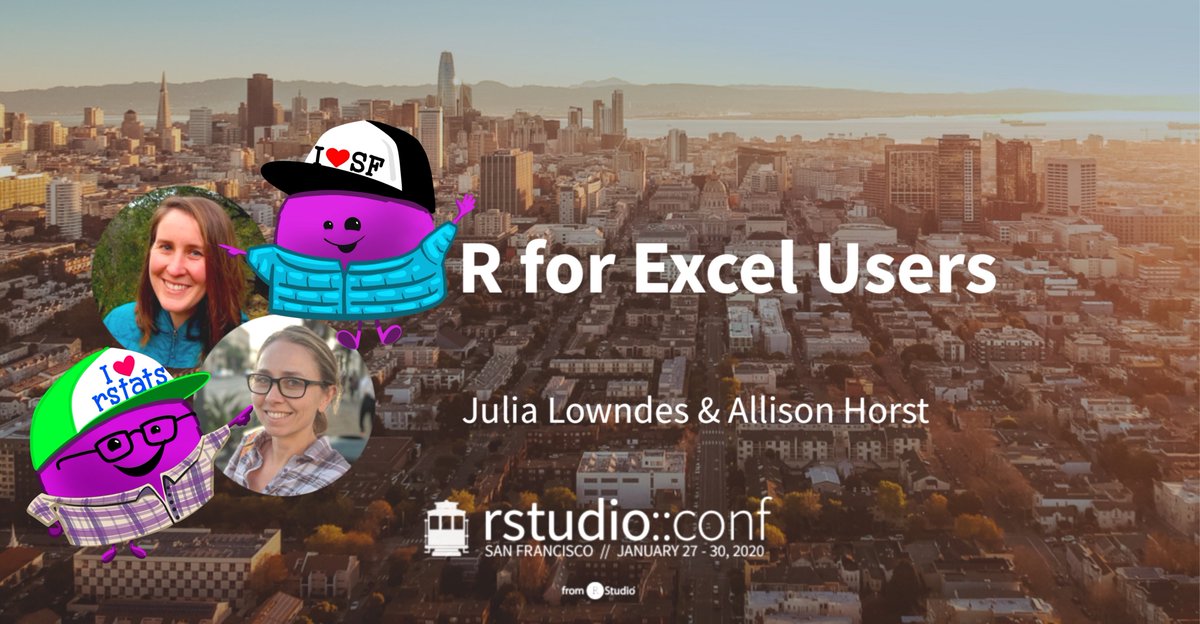 This course is for Excel users who want to add or integrate R and RStudio into their existing data analysis toolkit. It is a friendly intro to becoming a modern R user, full of tidyverse, RMarkdown, GitHub, collaboration & reproducibility.
This book is written to be used as a reference, to teach, or as self-paced learning. And also, awesomely, it's created with the same tools and practices we will be talking about: R and RStudio — specifically bookdown — and GitHub. It is being fine-tuned but the most recent version is always available:
This book: https://rstudio-conf-2020.github.io/r-for-excel/
Book GitHub repo: https://github.com/rstudio-conf-2020/r-for-excel
Accompanying slides: Google Slides
Blog: https://education.rstudio.com/blog/2020/02/conf20-r-excel/
---
About us
We are environmental scientists who use and teach R in our daily work. We both work at the University of California Santa Barbara, USA.
Julie Lowndes is a Senior Fellow and Director of Openscapes at the National Center for Ecological Analysis and Synthesis.
Allison Horst is a Lecturer of Data Science & Statistics at the Bren School of Environmental Science and Management. She is also Artist in Residence at RStudio!
---
1.2

Prerequisites

Before the training, please do the following (20 minutes). All software is free.
1.3

Data citations

We use the following data from the Santa Barbara Coastal Term Ecological Research and National Oceanic and Atmospheric Administration in this workshop: